Remi Verstreken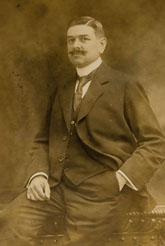 Remi Verstreken (1874-1948) married to Alice Ungricht. Four children.
R. Verstreken earned a living as an exchange agent at Antwerpen, Belgium. Moving his family and business four times during his lifetime,  much of his photographic work has disappeared. Although, one of his sons has safeguarded a small selection of his photographic work.
In the Bulletin, 13/07/1913, of the Association Belge de Photography his autochrome work was applauded "Les oeuvres de Mr. Verstreken sont des études fort sérieuses et d'une tonalité agréable surtout par sa douceur." The works of Mr. Verstreken are serieus studies of an agreable tonality and softness. One can endorse this opinion when admiring the three forest views, Forest track # 6.1, 6.2 and 6.3, of which it is difficult to tell if they are duplicates or shots with different exposure times. In his few travel autochromes which came to us,  there are some breathtaking pictures which make us want to see more of his artistry. 
Autochromes in:
Collection F. Van Hoof-Williame
Member of:
Association Belge de Photographie